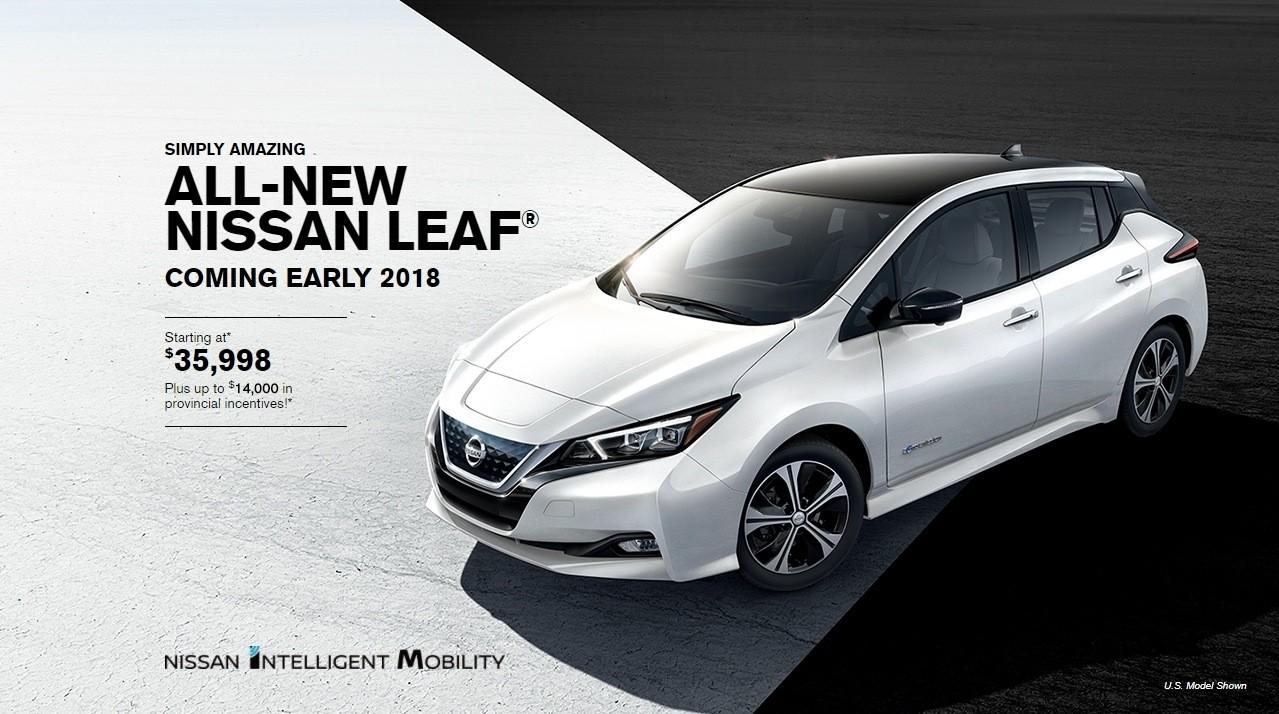 The 2018 Nissan Leaf is Coming to Myers Barrhaven Nissan Reserve Yours Today!
---

CES®2018 Best of Innovation Winner [*]

The 2018 LEAF has it all. Advanced features for a smarter drive and the Innovation Awards' top acclaim to prove it.
---
CES®2018 Tech for a Better World Honoree [*]

Built to amaze with forward-looking technology, the zero-emission 2018 LEAF has already been recognized as one of the year's most innovative vehicles.

---
MAKE EVERYDAY DRIVES EXHILARATING
THE 100% ELECTRIC NISSAN LEAF
Get ready for a whole new way to drive, where the everyday is exhilarating. Feel more inspired, capable, and confident – wherever you go. All in a car that does simple things amazingly.
[*]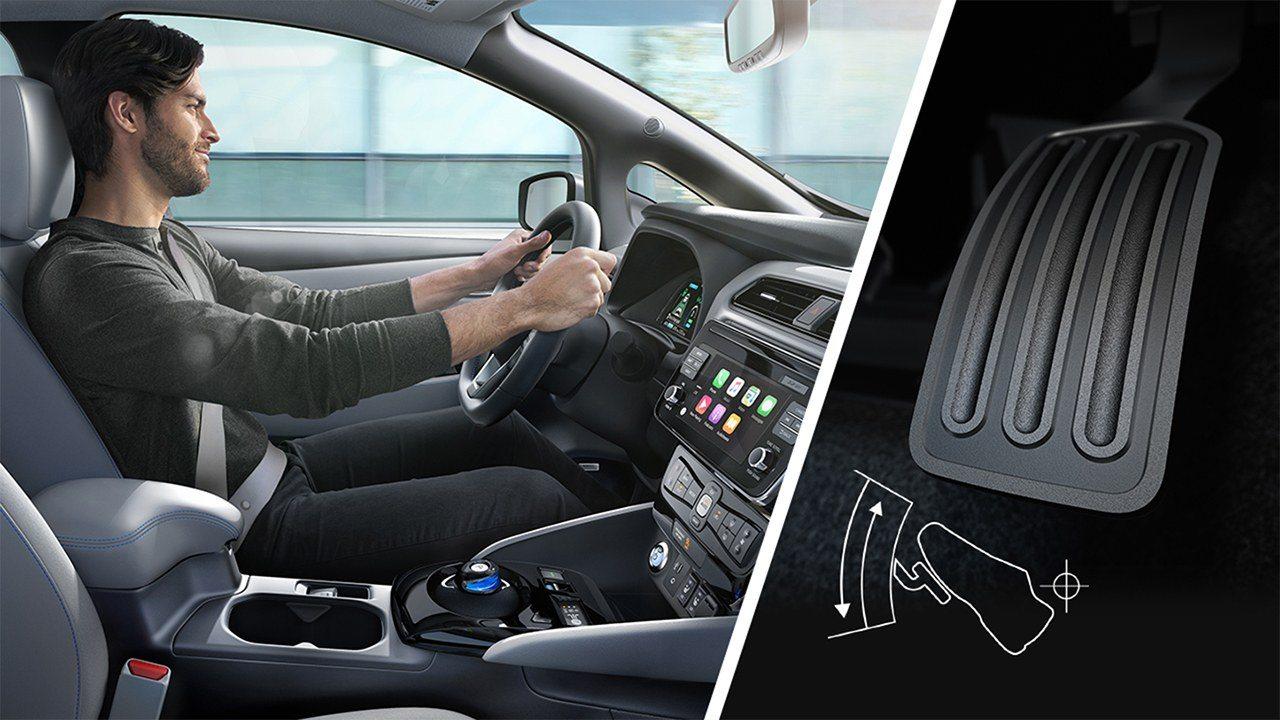 THRILLING PERFORMANCE
IT'S A RUSH YOU NEVER SAW COMING
The fun starts with the innovative e-Pedal, which lets you accelerate and brake with only one pedal. It's enhanced by a 100% electric drivetrain that gives you an instant rush of acceleration. Now with up to 241 km of range, the thrills take you farther than ever. [*]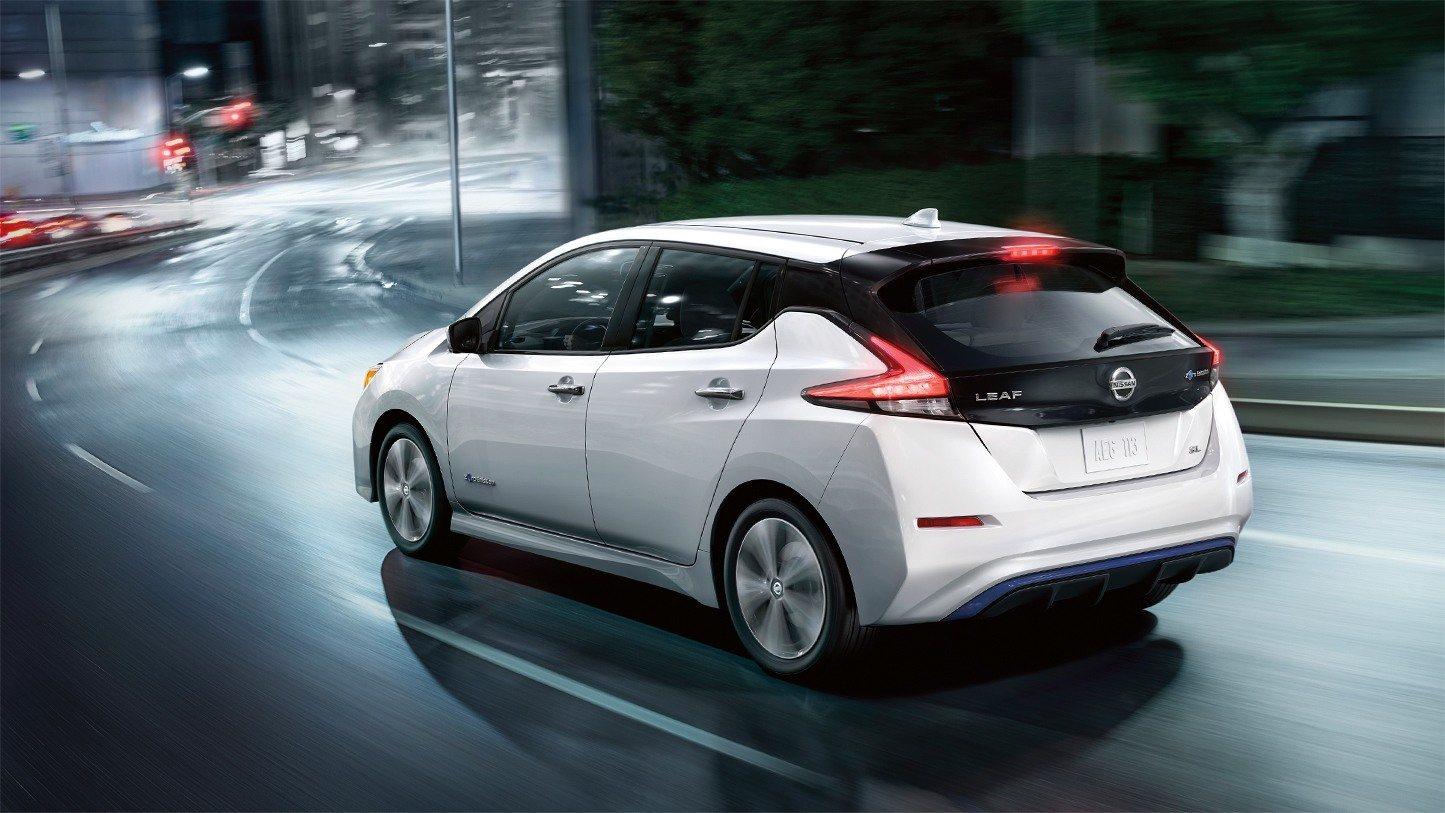 240V – HOME & PUBLIC CHARGER [*]

1 HOUR CHARGE =
UP TO 35.8 KM OF RANGE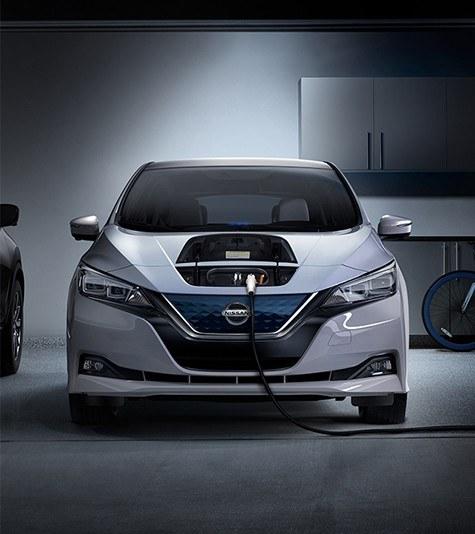 480V – FAST CHARGING (WITH QUICK CHARGE PORT) [*]

30 MINUTE CHARGE =
UP TO 141.6 KM OF RANGE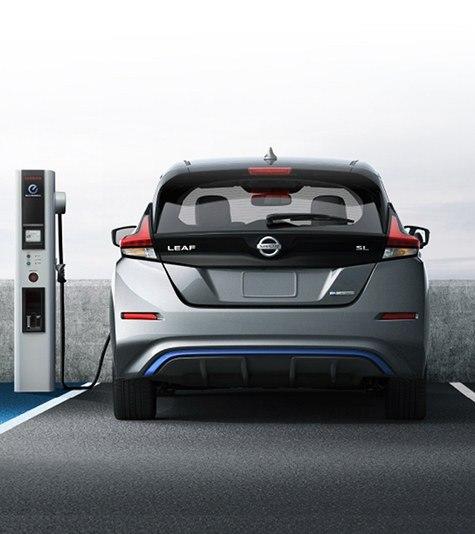 GET A HAND WHEN YOU NEED IT
NISSAN PROPILOT ASSIST
Let go of driving stress. With ProPILOT Assist, LEAF helps you take care of the little things, like following the car ahead at a preset distance or staying centered in your lane – ProPILOT Assist helps guide you. It can even bring your LEAF to a full stop based on the traffic flow, and hold you there.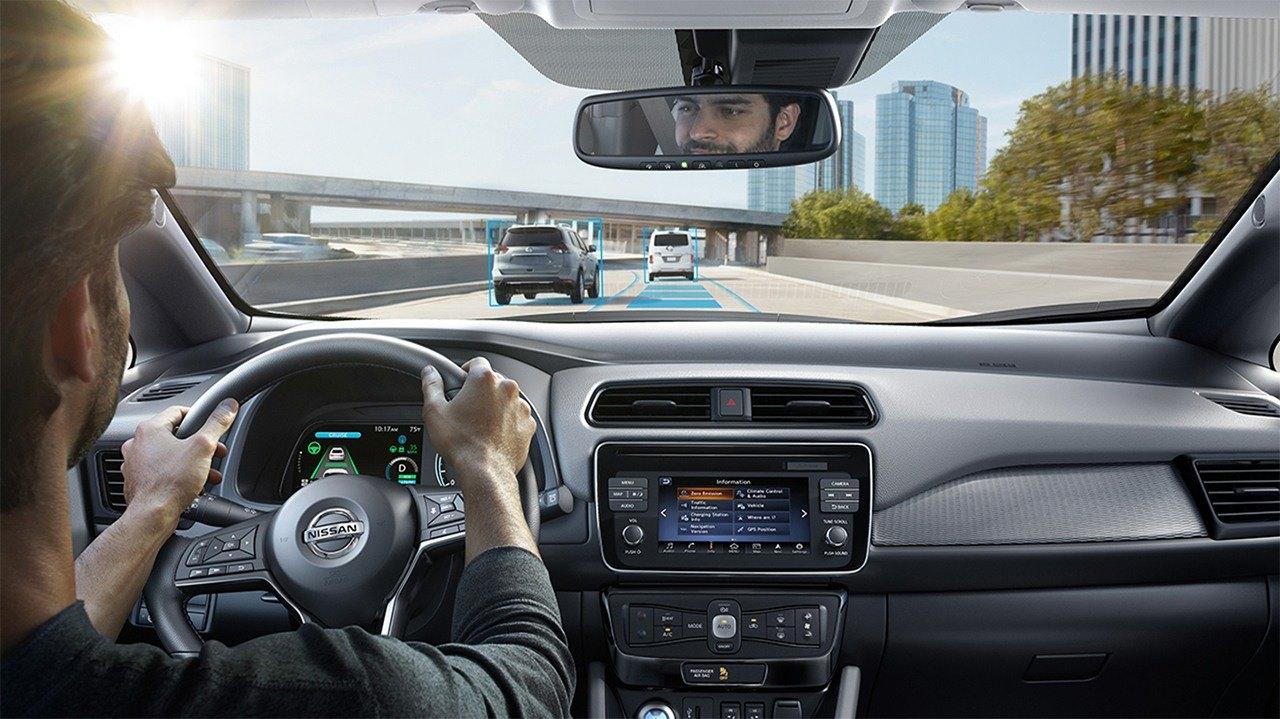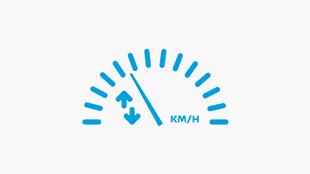 ACCELERATES FOR YOU

MAINTAINS YOUR SPEED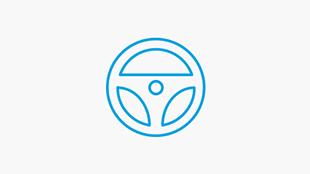 STEERS FOR YOU
HELPS KEEP YOU IN THE LANE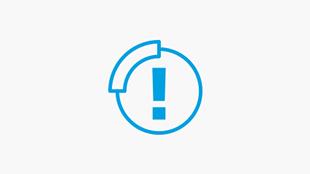 BRAKES FOR YOU
COMES TO A STOP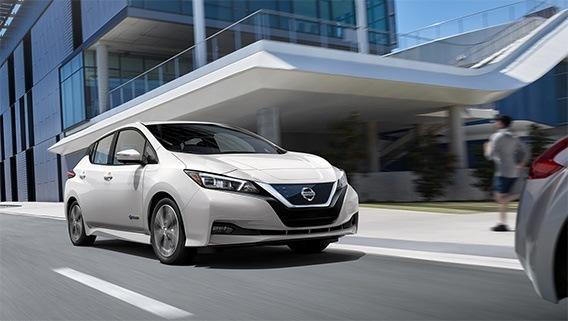 GET AN ASSIST WHEN YOU NEED IT
FEEL FREE TO ENJOY THE RIDE
Advanced features give you more control and confidence, from cruising on the highway to stop-and-go traffic. Standard Automatic Emergency Braking helps keep an eye out and can be paired with available Pedestrian Detection, while available Intelligent Lane Intervention helps keep you in your lane. [*]
SENSE MORE AROUND YOU
Nissan LEAF transforms the way you see what's all around you with features like the available Intelligent Around View® Monitor. [*]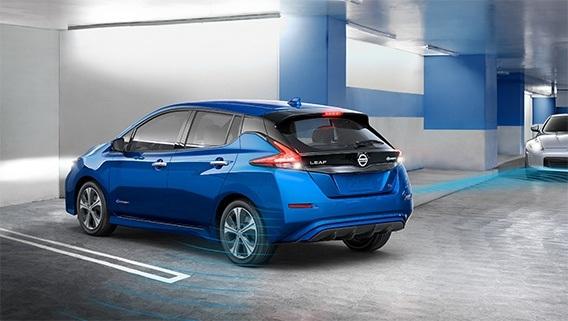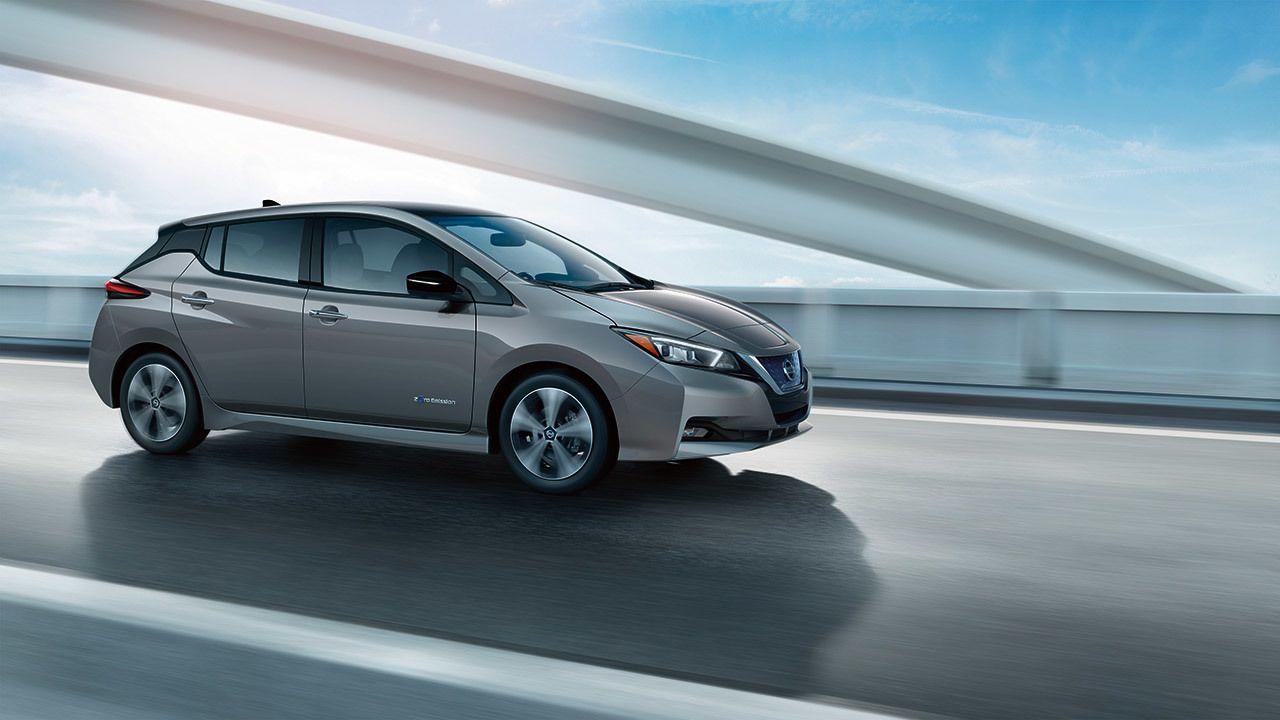 SENSE MORE AROUND YOU
EXPERIENCE A NEW LEVEL OF AWARENESS
By detecting movement around you, Nissan LEAF can sense potential trouble sneaking up on you. Available features include Rear Cross Traffic Alert, Intelligent Around View Monitor®, and more. [*]

TAKE CONTROL OF THE NEXT AUTOMOTIVE REVOLUTION
A RESPONSIVE PARTNER
FOR EVERY JOURNEY
Imagine looking forward to your daily commute. Or imagine the all-new LEAF assisting you with the daily tasks of driving. Imagine driving with just one pedal – feeling the rush of acceleration and braking. Or imagine driving with more confidence, getting a hand when you need it or a heads-up that helps keep you in-the-know. With features like e-Pedal, available ProPILOT™ Assist, Automatic Emergency Braking with Pedestrian Detection, and more, LEAF makes it all possible. [*]
---
THE FULLY CHARGED FUTURE IS YOURS
GO FARTHER ON YOUR
NEXT CHARGE
LEAF makes it easy to find the nearest charging station, charge at off-peak hours, and keep tabs on the vehicle from your compatible smartphone. Everything you need to keep the journey going.
THE NISSANCONNECT® EV APP
Charge your LEAF on a timer, bring your vehicle to the perfect temperature before you even get in, and get up-to-date traffic reports, all from your compatible phone. [*]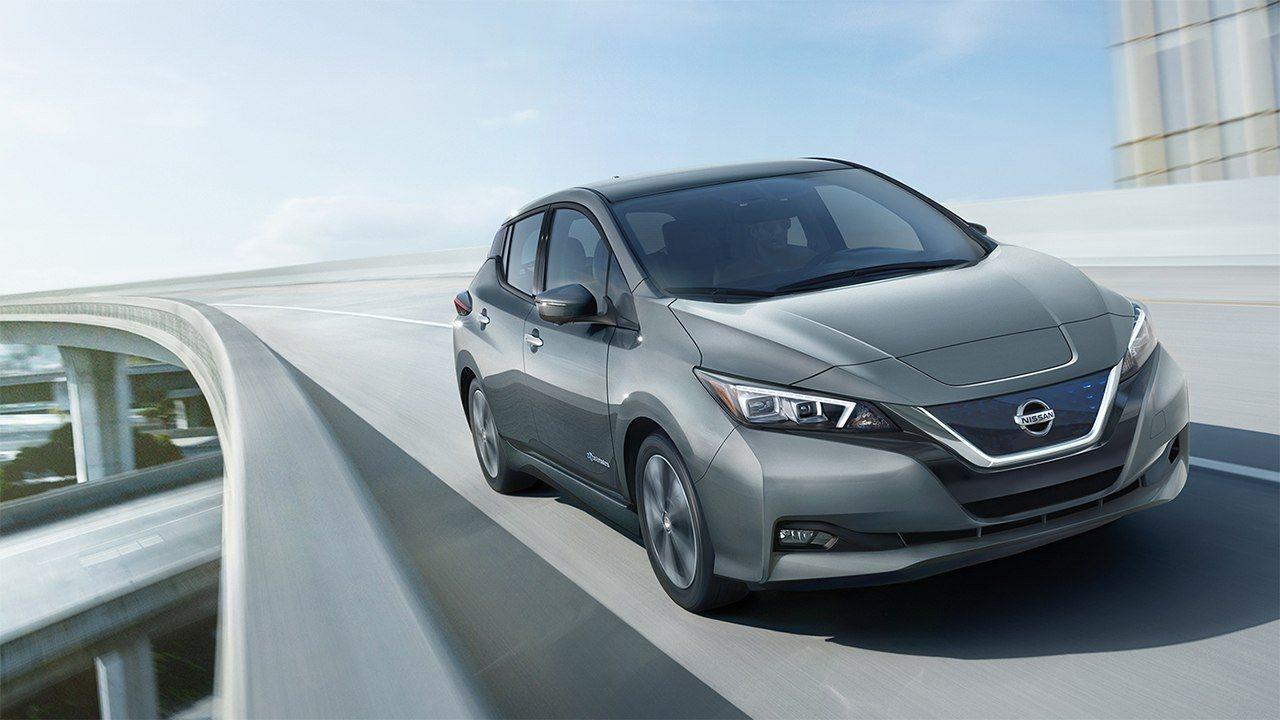 SMART IS THE NEW BEAUTIFUL
BOLD NEW LOOK
As exhilarating to look at as it is to drive, LEAF features sharp lines, a dynamic front end with a unique multidimensional translucent blue grille, and a signature "floating" roof.
Extra Cost Option
Only available in SL and SV
---
STAY CONNECTED WHEREVER YOU GO
TECHNOLOGY THAT AMAZES
Staying in touch with your world and your LEAF is easier than ever. From a customizable, digital instrument cluster to a "floating" information screen to seamless mobile integration, it's all here. [*]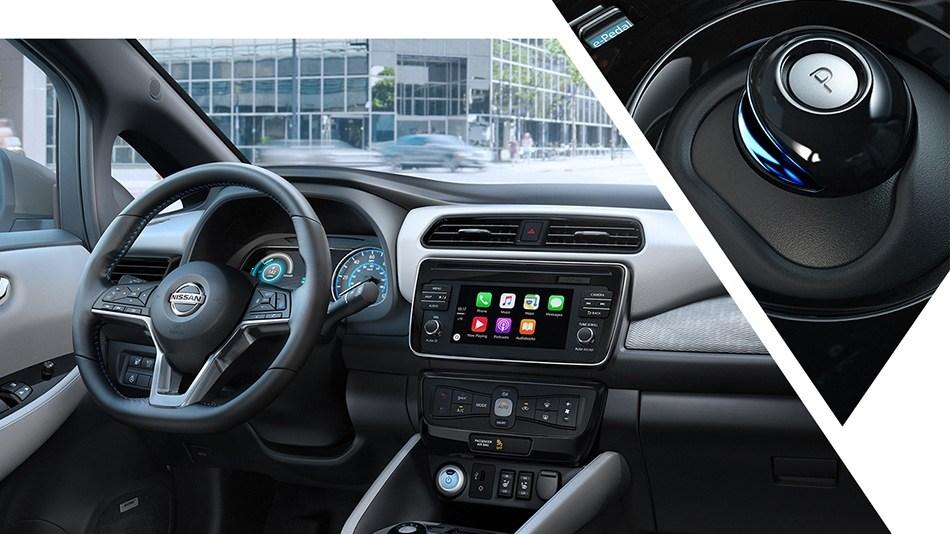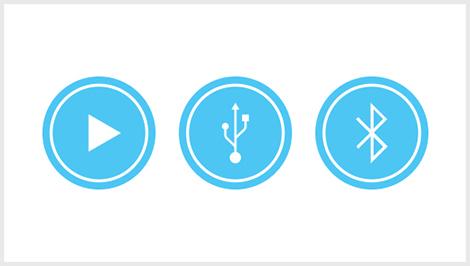 SEAMLESS MOBILE INTEGRATION 
Get access to your compatible smartphone with Apple CarPlay™, Android Auto™, a USB port, and Bluetooth® technology. It's never been easier to connect to your world. [*]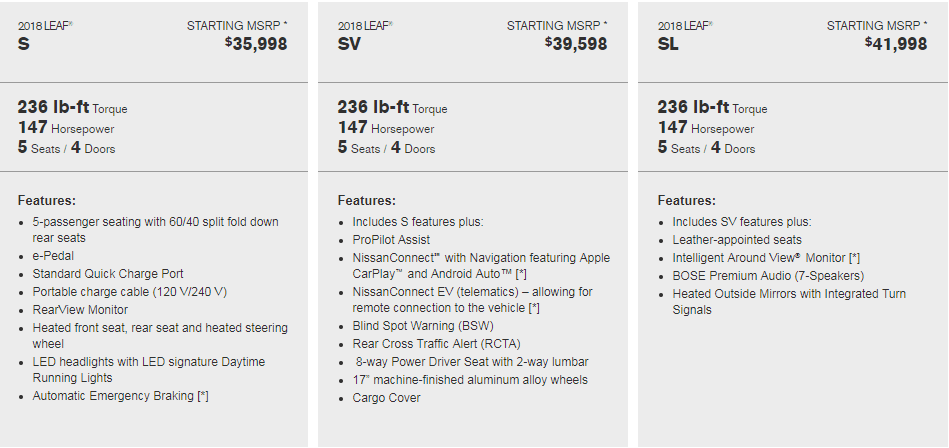 ---
Go LEAF
Get up to $14,000 in Electric Vehicle Provincial Rebates
Qualify for a government incentive with your purchase of a 2018 Nissan LEAF in select provinces. [*]